David Plate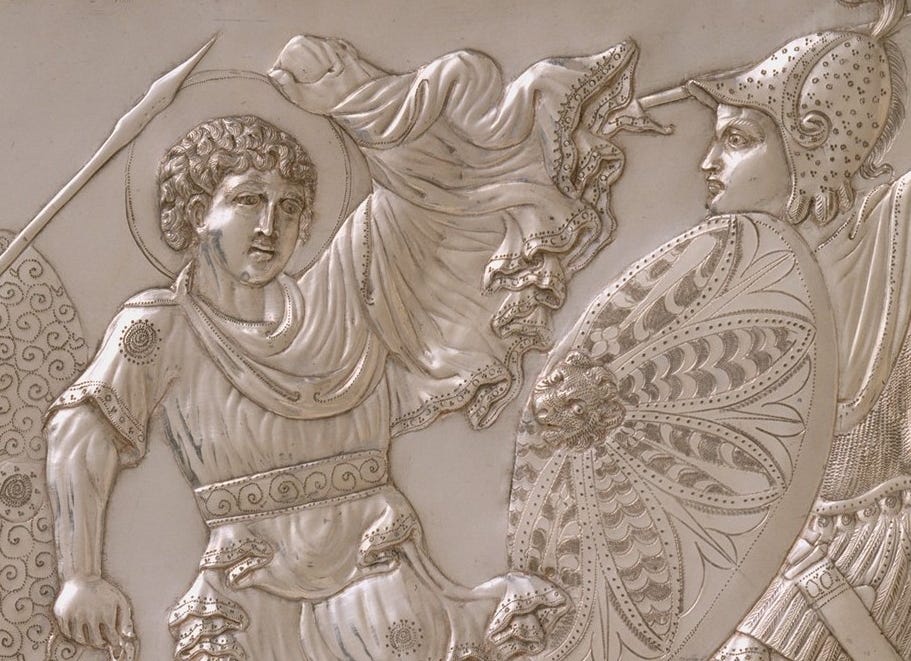 My Softest Cupcakes,
On my Google Calendar I scheduled two hours to ensure time to wake up, take a nice masked bike ride, then return to a shower and breakfast. Instead I woke up 30 minutes before nine, too late for any of that.
There are the normal reasons why I didn't get up—didn't sleep well last night, it's easier not to—but also this tiny and real, well, I guess, fear of going out there into the bad world, riding my bike, and feeling better.
Obviously that's just my old and beloved friend anxiety. You can't blame him for doing what he does, especially now; I mean for his part anxiety believes he's keeping me safe.
All I ask, he says, is that you feed me first, that you think of me before you do something reckless that might diminish my authority, like take some foolish bike ride that would "level" your "mood," whatever that means.
Don't risk it! Because if all the other anxieties living inside all the other people see that you have diminished me, they will fear for themselves. People need to understand that you are panicked on their behalf, that you are the mirror of their fears, because how else will they know you love them? And then how will they love you?
Imagine how lost you'd be without me shrieking in your ear all day. Let's just get through the day and have a nice stiff drink—yes, pour a scooch more, don't worry about the morning—and lie down and, ah, we'll check Twitter together. So much to see! So many other little anxieties just like me all meeting for our evening tweet-feast. Aren't you glad I'm here, sitting on your neck, and keeping you safe? Did you know you are dying?
Or maybe this is just me.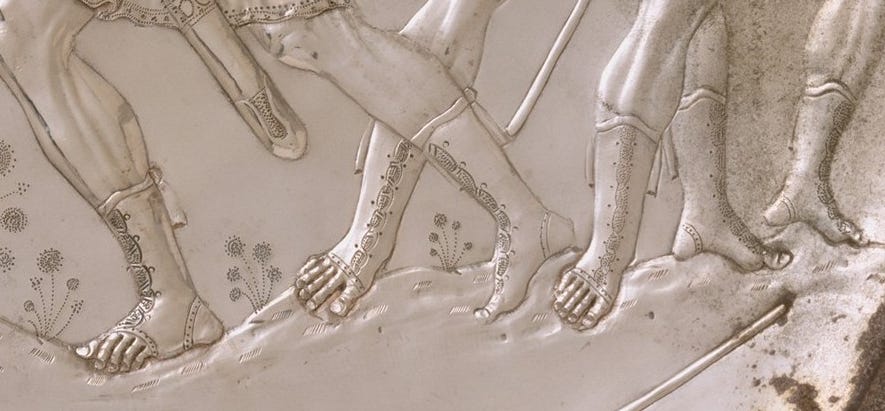 In less anxious times and as often as I could, I'd take my kids (eight-year-old twins) to the Metropolitan Museum of Art—at first bribing them with chicken tenders from the cafeteria, but after a few months of visits they got the spirit. My daughter ended up liking the "houses," the collection of period rooms in the American Wing; my son wants to visit the old guns and swords. They like looking at the art-art, too. For me I love the collection, and it's also a place that is easy to route children through, with benches and bathrooms. A peanut butter and jelly sandwich can run $9, but other than that the Met can credibly claim to be one of the two or three greatest museums on earth. Especially when it's 101 degrees outside.
It's a vast labyrinth, too, so if you go there a lot you start to find your routes. For me it's: Front stairs, right security, ticket kiosk, middle entrance, go right. You're in the Byzantine era, and my eye settles on the plate of David and Goliath. When I see that plate, I leave the world, and I go, Now we are here.
Plate with the Battle of David and Goliath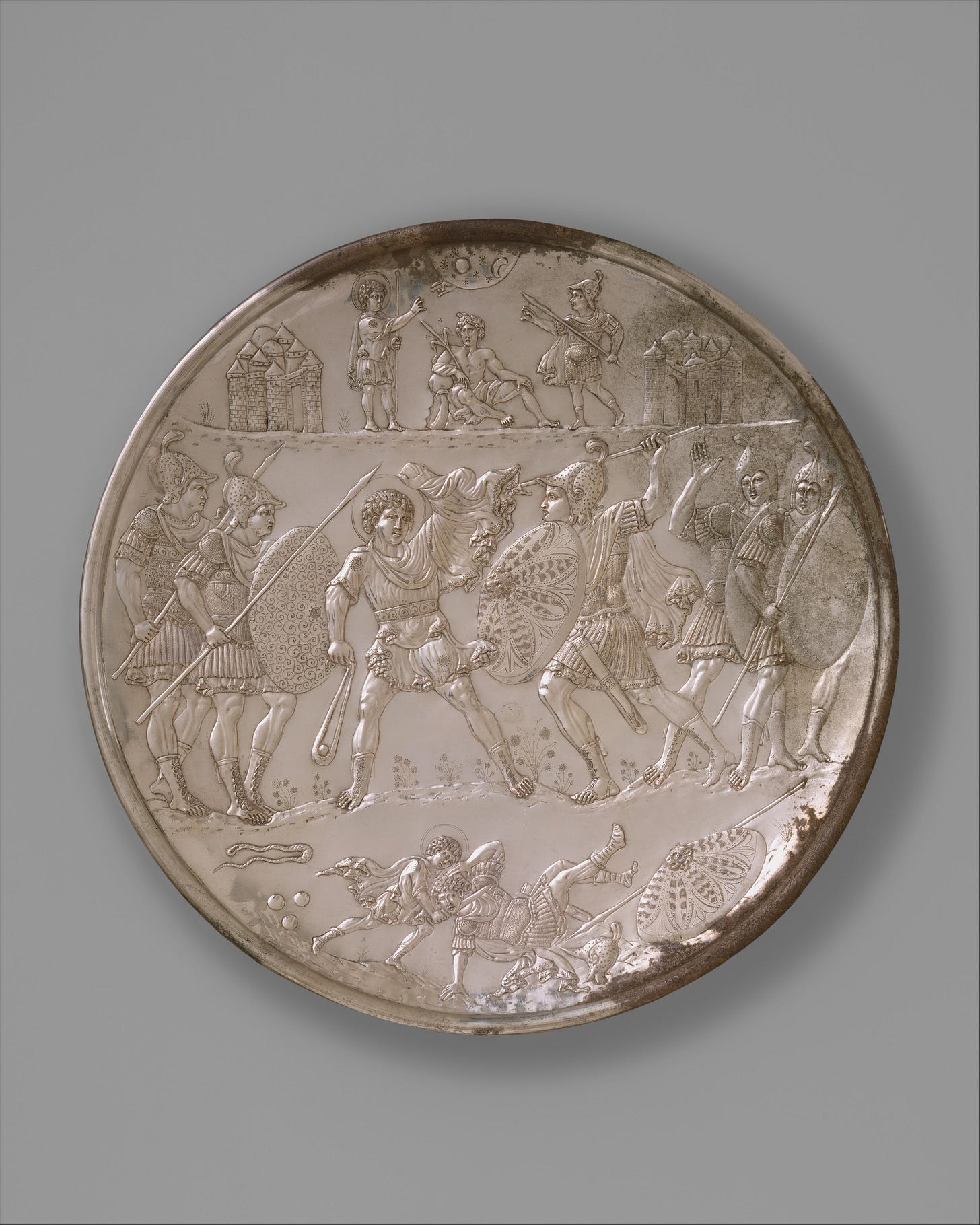 Title: Plate with the Battle of David and Goliath
Date: 629–30
Geography: Made in Constantinople
Culture: Byzantine
Medium: Silver
Dimensions: Overall: 19 7/16 x 2 5/8 in., 203.9oz. (49.4 x 6.6 cm, 5780g) foot: 8 1/8 x 3/4 in. (20.6 x 1.9 cm)
Classification: Metalwork-Silver
Credit Line: Gift of J. Pierpont Morgan, 1917
Accession Number: 17.190.396
Cyprus Treasure, found at Karavas, Cyprus, 1902 ; [ C. & E. Canessa, Paris (sold 1906); J. Pierpont Morgan (American), London and New York (1906–1913); Estate of J. Pierpont Morgan (1913–1917)
It's a big plate. You could put about 200 deviled eggs on it, I bet. Here are some of the things I know about it:
It shows David with his slingshot, battling Goliath. There are nine of these plates that relate the broader Biblical story of David. This is the biggest, central plate. David has a round face and a halo and in general seems a little smug.

The nine plates were part of the Second Cyprus Treasure and were dug up by accident in 1902. Six plates ended up getting hustled away and ended up in the collection of J.P. Morgan, and were given to the Met after he died. Three are still in Cyprus.

These plates were made around 630, and are possibly from the palace workshops of the Byzantine emperor Heraclius. This is why everyone on the plate looks pretty Byzantine, with defensive skirts. The plates also have Heraclius's stamp to affirm the quality of the silver.

According to Wikipedia Heraclius did a pretty good job executing the prior emperor and taking power, but then the Persians utterly trounced him—he'd had to sue for peace, which meant that every year he owed the Persian Emperor Khosrow II a thousand talents each of gold and silver, and a thousand each of silk robes, horses, and virgins. Sending all that to Persia every year sounds like a logistical nightmare until you realize you can dress each virgin in a silk robe, give her two talents, and put her on a horse (at least that's how I'd handle it).

Eventually Heraclius got his act together and absolutely pulped Persia, which doubtless was a huge relief to both virgins and horses but a terrible situation for the silk weavers. And somewhere in there some plates were made in his workshops.

This is one extremely famous plate. Who knew? Then again, just about every big, shiny thing at the Met is a significant thing that you should already know about. The little descriptive tags always play this close to the vest. I'm sure the tag on this one is like, "Plate with scene of David. Byzantine. 629-30." To get the rest you have to read some PDFs or buy the audioguide. Just the Met being the Met.

I wondered if they used some sort of solder and stuck the Davids and Goliaths on the plate but, no, it's made using the repoussé technique, which means basically you use a hammer and little metal chisels and work on it for months. Here's an expert showing you how to make a dragonfly—his name is Fabrizio Acquafresca, actually, and he's a 17th-generation Florentine metalsmith. According to his website, guns decorated by his ancestors are also in the Met.
So those are the things I know about this plate.
When I was at the Met some months ago I took a picture of it. As you can see they did not spare any silver polish. It's like 500 kilowatts of Byzantine glory. The random mottled pinkness you see is of course my own face reflected.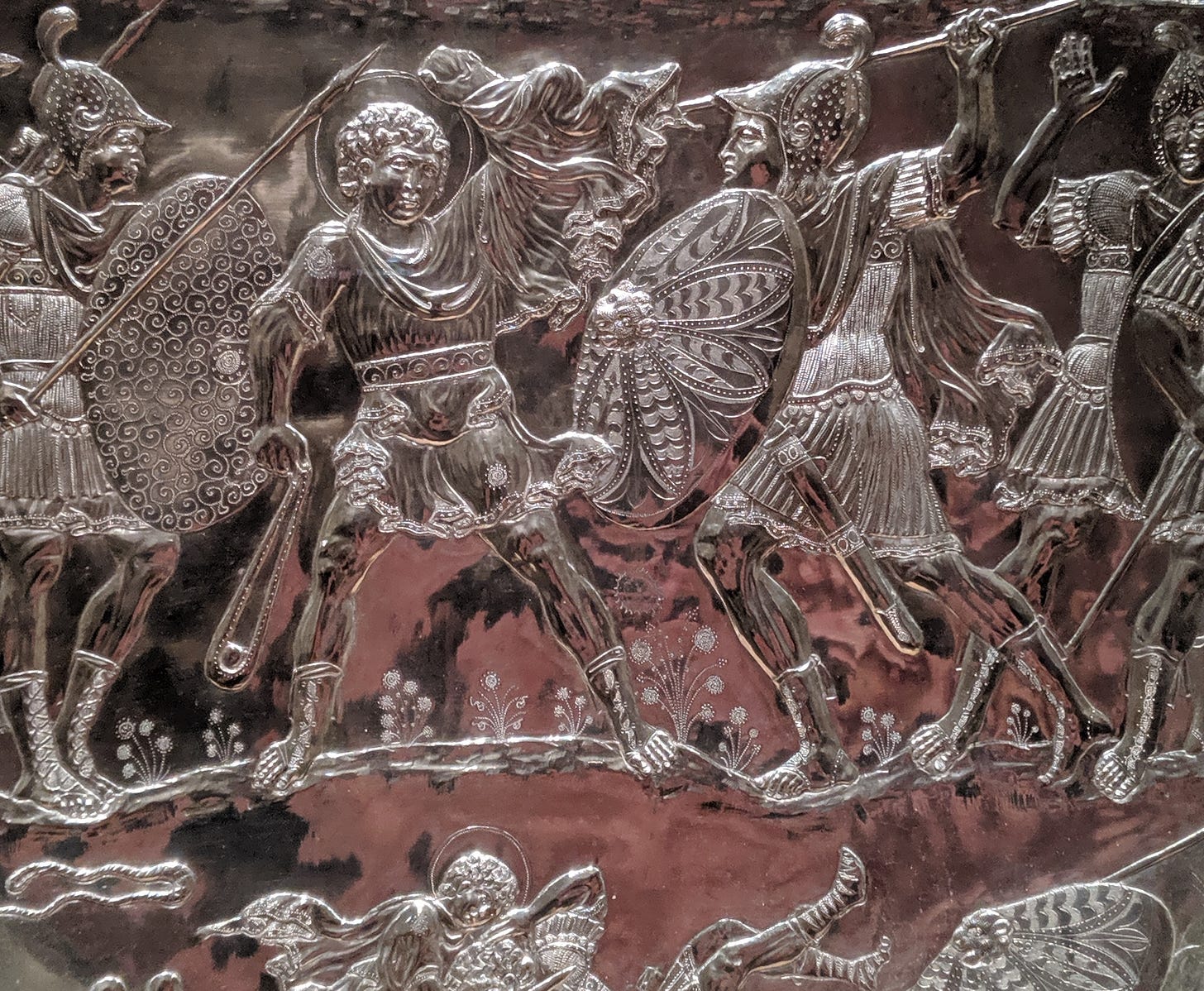 It's wonderful that we have put our great treasures online but this is one of those moments when the real artifact changes because you are in front of it. It's such an imperial object, reflecting the glory of a long, long-dead Emperor, and the world of J.P. Morgan too, reflecting the nature of museums accessioning great national treasures, and reflecting me, too.
Heraclius, J.P. Morgan, and David are the names we know. The artist who made it is unknown; the person who cleaned the artist's shop is unknown; the miners who dug out the silver, the caravans that carried it, the person who left the plate behind for centuries, all unknown. It's just there now, hanging in the Byzantine collection to the right of the grand staircase, next to some of its sister plates, and far from Constantinople.
I often wonder what the art makes of us. From the point of view of the plate, I must look ridiculous in khaki shorts getting tugged along by my bored children. That's okay. I am willing to be judged by ancient silver. I'd welcome it, in fact, because I badly miss going places on the train with millions of other people, and looking at millions of things, and being utterly affirmed in my belief that I don't know one single reliable thing about anything in the entire world.
Take care,
Paul